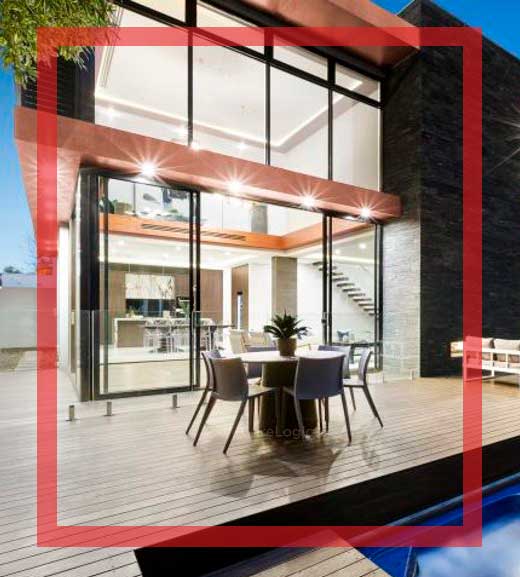 Luxury living, your way
Make your home build something special
VBuild Melbourne Pty Ltd is about building quality, confidence, strong ethical standards, relationships, and satisfaction with every customer on every project.
We will ensure your project is of the highest quality. Using the best materials and subcontractors, we can maintain our high standards for all work performed on your project. We do not believe in cutting corners. Quick fixes and cheap substitutions will only add to future maintenance costs. Paying attention to the details means that nothing is overlooked and that all parts of your project are equally important.
Leaders in Prestige Home Design & Build
Melbourne's premier luxury home builders
At VBuild, we're Melbourne luxury home builders who are single-mindedly focused on bringing your custom home dream to perfect fruition. From your initial ideas, right through your custom design, planning, construction and beyond, we guarantee you a fabulous, superbly finished quality home that you'll be thrilled with, for years to come.
VBuild's objective is to provide a project management service, where our client is constantly kept aware of the project status and is confident that the project will run seamlessly throughout every stage. From project inception, planning, procurement, execution and completion, both client-side and contractor side, VBuild's extensive project management experience can ensure that projects are always run smoothly and diligently. 
New Home Design
We're always excited to begin the design and build process of a new home with our clients – it's a journey full of amazing potential. From day one our professionals will inspire you with their skill in translating your vision into a beautiful and superbly livable home.
Dual Occupancy
Unlock your wealth with a dual occupancy development by VBuild. Our Dual Occupancy team are specialists in multi-dwelling and 'dual occ' developments. We have the expert knowledge, proven track-record and experience you need to unlock your property's investment potential.
Townhouses
VBuild townhouse designs are an effective solution for creating large returns on your investment. As experienced townhouse builders in Melbourne, we have a wide range of Townhouse floor plans, including front and rear loading townhouse designs and side by side developments.
Renovations
If you are looking for quality, local kitchen & bathroom renovators in Melbourne, you have come to the right place. At VBuild we have years of experience and our multi-skilled builders always work to a high standard of building and customer satisfaction. We can help with any scale renovation, our experience includes all types of kitchen and bathroom renovations from concept to finish.
Interior Design
Whether you've up scaled, downsized or just want to give your home a facelift or total revamp, VBuild can assist. We have become the interior designers Melbourne chooses to deliver that wow factor to their home. When it comes to our Interior Design service the focus is squarely on you and the lifestyle that you want to create in your home. For all of us, our home is our haven so the objective of VBUILD is for you to love where you live.
Landscaping Design
Great gardens, backyards and front yards are based on sound garden design landscape principles. We believe garden design is about understanding the corresponding relationships between spaces, shapes, materials and colour. We feel this approach produces a more considered and timeless garden.
Unique House Designs

High quality House Designs and Renovation plans tailored for each clients lifestyle.

New Homes

Quality individual Designs for New Homes by qualified Building Designers.

Granny Flats & Approvals

Custom designs and CDC plans approvals for Secondary dwellings and studios.
Council DA Drawings and CDC Approvals

Council DA /CC Drawings and CDC (Complying Development) Private Certifiers.

Extensions and Additions

Designs and plans for house renovations, including ground floor extensions, new Decks, Carports, Garages and first-floor additions.

Concept Designs

Provide several concept design options for client's consideration. All designs are presented by a fine set of 2D and 3D drawings.
Building approvals

DA application preparation and submission to local council /Building Certifiers.

Local Council & Housing Codes Compliance

Examining Local council controls and Housing Code to determine compliance

Variations to development standards

Where applicable, Prepare Variation requests to Local Council Development standards in the event of minor non-compliance.

Statement of Environmental Effects

Prepare Statement of Environmental Effects as part of the DA submission.
Basix Certificate

Prepare Basix certificate required for most development and CDC application.

Compliance with Building Codes

Compliance with Building Codes of Australia (BCA) and Australian Standards.

Detailed CAD Plans

Prepare detailed CAD Plans and drawings for various developments including residential and change of use.

Streamlined Process

Coordinating with various professionals and engineers to minimise delays and errors and providing a seamless design and drafting service.